9 inch x 11 inch Abrasive Sheets
Marvel offers a complete selection of paper and cloth sheets for both wood and metal working applications.
Features/Benefits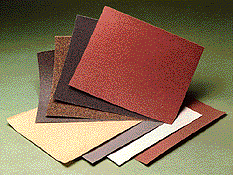 Paper
The backings used for Marvel sheets are uniform, precision technical papers made to very exact specifications. The nature of the application and the flexibility required determine what weight paper to use. Standard weights used in Marvel paper sheets are 40, 70 and 100 pounds, and are indicated by a letter code imprinted after the grit size on the backing of all Marvel abrasive sheets.
Cloth
Marvel cloth sheets are manufactured from high quality woven cotton fabric that is pre-shrunk, stretched and filled, to produce the durability, flexibility and surface constancy needed in sanding applications. As with the paper sheets, all cloth sheets indicate the cloth weight (X or J) and grit size on the sheet back side.
Availibility Range
Note: A Cross Reference chart is available for our entire sheet line from your local Marvel representative or directly from Marvel Abrasive Products.
Marvel 9" x 11" Sheet Selector Guide
Cloth Backing
Paper Backing
Product
Metal Cloth
Emery
Waterproof
Finishing
Cabinet
Zinc
Stearate
Mineral
Aluminum Oxide
SiliconCarbide
Aluminum Oxide
Silicon
Carbide
Bond
Resin Over Glue
Resin
Glue
Weight
J
X
J
A
C
A
C
D
A
Coat
Closed
Open
Available Grit Sizes
36
Extra
Course
40
50
Coarse
60
80
100
Medium
120
150
Fine
180
220
240
280
320
360
400
500
600
Applications
Paper
Finishing Paper
Aluminum oxide grain. Light weight and very flexible backing (A). Primarily used for hand finishing and orbital or vibratory sanding. Open coated grain surface resists loading.
Cabinet Paper
Aluminum oxide grain. Medium-light (C) and medium-heavy (D) paper backings blend reduced flexibility with added strength. Cabinet paper is most frequently used to remove surface defects left by machine sanding before finishing. Open coated grain surface resists loading.
Waterproof Paper
Silicon carbide grain. Latex treated light (A) to medium-light (C) paper backing used with water in hand and mechanical sanding applications. The water functions both to cool and lubricate the work piece while carrying away swarf build-up. Most often used between coats of painted, varnished or lacquered surfaces for very fine finishes. Closed coated grain surface.
Zinc Stearate Paper
Silicon carbide grain. This finishing paper was developed for fine sanding of sealers and primers. The zinc stearate provides greater resistance to loading than standard finishing papers, with the zinc stearate acting as a lubricant. Available in an open coated grain and A-weight paper backing.
Cloth
Metal Cloth
Aluminum oxide grain. These durable, general purpose metal cloth sheets are extremely popular because they can be used in so many industrial applications, ranging from rough to fine sanding, on all types of materials. Closed coated grain surface in X and J (depending on grit size) cloth backings.
Emery Cloth
Composite of corundum and iron oxide grain bonded to a J-weight cloth backing. The blocky characteristic of this grain tends to cut slowly, polishing more than abrading. Most commonly used for general maintenance work. Closed coated grain surface.